Window Screen & Screen Door Repair and Replacement
Some home owners rely so heavily on screen doors and window screens during warm weather that when they get damaged, it can become a big inconvenience very quickly. You're stuck with choosing between doing nothing and letting bugs get in the house, or closing the door or window altogether and forfeiting the benefits of fresh air flowing into your home.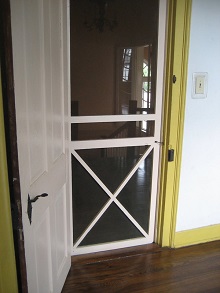 So if you notice any tears or major wear, it's important to act quickly to get it fixed or replaced, and we can help with that! At Lancaster Paint & Glass Co., we offer a comprehensive selection of services relating to screen door and window screen repair and replacement, including:
Re-screening with new screen in existing frames
Fabricate new fixed-panel screens
Replace or install screened-in porch
Pet screen to help prevent torn screens
Solar screen to reduce heat gain
Patio door re-screen and replace wheels
Replace patio door screen with a new screen door
Not sure where to start? Keep reading for additional guidance, or call or team of screen repair experts at 717-299-7321.
Repair or Replacement?
In some situations, repairing your screen can be effective and budget friendly. There are screen repair kits available that can help you patch up small holes or tears, but be careful that you don't cause even further damage in the process! Instead, bring your screen door or window screen into our Lancaster PA location and have our screen specialists do the repair so it looks new and not "patched".
Do you have pets that constantly claw at the screen? We have pet friendly screens that help prevent tears and damage! Is your screen in direct sunlight most of the day? You may benefit from a solar screen which significantly reduces heat gain by blocking most of the solar rays.
Why Choose Lancaster Paint & Glass?
Could you do the repair or replacement work yourself? It's possible, but it's also common to accidentally cause further damage when attempting to do the repair yourself. That's why it's wise to choose an expert screen repair team such as Lancaster Paint & Glass Co. Whether you have a sliding patio screen door, window screens, or screens with wooden or metal frames, we can help!
Just bring your door or window frame into our shop and let our team handle the rest for you. If you are not able to bring it to us, we can send a screen repair & installation specialist to your house or office, if you're in our service area (Lancaster County, PA and some surrounding areas).
Our screens are constructed using high-quality aluminum or fiberglass screen, and they can be reinforced to deter tears and holes caused by pets. So you can be sure that if you get a window screen replacement or screen door replacement from us, you can rely on it to serve you for many years to come!
We have a large inventory of screen clips, hangers, latches and sometimes we may be able to replace broken corners.
Ready to get started? Just click below to request a quote or ask a question.