Custom Cut Glass
When you think of custom cut glass, you likely envision sparking tabletops with beautiful, beveled edges in the lobbies of banks or hotels. These pieces of custom cut glass may appear out of reach for your home or business, but they're not! At Lancaster Paint & Glass, we specialize in creating beautiful, unique shapes for our customers' unique needs.
Our glass cutting services include tabletops, glass shelves, glass for office tables, desks and conference tables (need a hole cut out to accommodate your computer cords?), and more. We have largest selection of obscure glass for windows and cabinets in the Lancaster County, PA region.
No Job Too Small
You might expect Lancaster Paint & Glass not to bother with small glass needs, yet we welcome customers in need of glass repairs or custom cuts for picture frame glass, glass shelves, glass for kitchen/cabinet doors, and bathroom windows. We also can replace safety glass in insulated door units, skylights, and patios doors.
Custom-cut glass can range in thickness. We can design glass in different thicknesses, from 1/16-inch thick glass to ¾-inch thick. Unsure about the thickness you need? Our staff can help you choose the right material your needs/project.
Custom Glass Shapes

In custom cut glass, the shape of the glass piece is the first hurdle. Whether you're looking for a custom tabletop or filling a unique window frame, Lancaster Paint & Glass can cut the shape you need. We can even design custom shapes to fit your exact specifications!
Glass Thickness
(Not to scale)

Obviously, different custom glass projects require different glass thicknesses. Fortunately, we are capable of designing glass tabletops in different thicknesses. No matter the glass project, we can create a piece to fit your needs!
Custom Glass Edge Types
Glass typically comes in two standard edge styles: bevel, and flat polish, as shown below.

Bevel – an elegant, angled surface cut around the periphery of the glass and polished smooth
Flat Polish – a sleek cut usually ground smooth and polished featuring a small chamfer on the top and bottom to remove edges
There are many different edge styles that can be used to create unique custom glass pieces. Aside from those two standard edges, you can also design a custom edge to make your piece stand out against the rest.
Corner Detail

Corner details in custom cut glass can improve the look of a custom project almost immediately. These corners can be cut to any pattern, and can enhance the finished look of the surface. Many people choose to use corner details on mirrors or tabletops, as they add a more elegant feel to the glass.
Fabrication Capabilities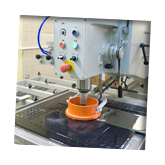 At Lancaster Paint & Glass, we're proud to offer custom cut glass fabrications to your exact measurements. This includes, but is not limited to:
Shapes
Holes Drilled
Beveled Edges
Mitered Edges
Ogee Edges
Pencil Edges
Outlet Holes
Notches
Pass Throughs
Mail Slots
Unique Glass Needs
Need a piece of glass in a unique shape? Lancaster Paint & Glass can cut to the exact shape you need. Our glass-cutting experts can create specialty shapes to fit odd window frames or individual projects.
So if you have a need for specialty glass, chances are we will have it, or we can obtain it, and cut it to size. We have experience cutting and selling unique glass options like reproduction antique glass, flat safety laminated for glass found on off-road equipment or boats and curved glass for china bends.
We also supply and install specialty glass and plastic like custom frosted, insulated, UV-filtering, and museum-conservation plastic.
Restoring an older home? You can find reproduction antique "wavy glass" you need to maintain your home's historic appeal. We offer rolled, patterned obscure, and reproduction antique glass.
Custom Mirror Glass
Lancaster Paint and Glass is well known as the place to find mirror glass and have it cut to the size and shape you want. The glass experts on staff can help you design a custom shape for your mirror in various colors. Its specialty mirror options include beveled, antiqued, and one-way mirror glass used for surveillance purposes, as well as colored and antique mirror on special order.
Custom Tempered Glass Needs
Tempered glass is used in many homes and business and vehicles. Because of its strength, it's ideal for refrigerator trays, computer towers, sliding doors, oven doors, fireplace glass, patio tables, shower doors and tempered glass for antique automobiles. It's often found in hotels, bars, and restaurants to increase safety and security.
Once the glass is tempered, it can't be cut or drilled, as it will shatter into thousands of pieces. This type of glass must be cut to size before the actual tempering takes place.
Because it's such a commonly used glass type, our staff has years of experience working with tempered glass and can provide a tempered glass replacement to fit your specifications.
Pricing
Due to our wide selection of glass types and custom glass cutting services, the cost of our materials and labor vary widely depending on a number of factors. We're proud to provide high quality materials serviced by trained professionals, all at an affordable and competitive price.
You can learn more about our pricing here, or contact us to get an estimate on your custom glass project.
A Word About Glass Defects
In the modern world of cookie-cutter goods, we have come to expect flawless perfection in everything we buy. However, glass is a natural material which contains natural flaws that may be visible to the naked eye. These flaws are unavoidable; even the finest raw materials contain them. The federal government has established specifications, however, that no defects should be visible in the glass when it is viewed horizontally or vertically from 11 feet away under normal lighting.
More Than Just Glass
In addition to a wide selection of glass, you will also find glass, mirror and screen hardware at Lancaster Paint and Glass. Both commercial and residential clients can find the necessary hardware and connectors needed to complete your home repair or home building projects. You can even find supplies for the finishing touch, such as commercial glass cleaner.
So no matter what your glass needs may be, if you're in Lancaster, York, or surrounding areas, come visit us and let us serve your custom glass cutting needs!