History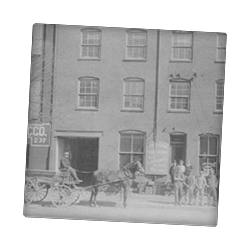 It is 1884 and David L. Harnish begins producing paints on a small scale. In June of 1885 he opens a small paint store at Nos. 5 & 6 South Queen Street, and the following year electricity comes to the City of Lancaster. By 1890, the year electric trolleys arrive in Lancaster, the business has grown, and Harnish acquired a partner – Abraham L. Leaman, and the business is named simply "Harnish & Leaman". By 1896 the demand for paint and varnish had increased to the point that the store on South Queen was too small, so it moved to larger quarters a few doors north to what is now Penn Square. At the same time, Harnish & Leaman opened a factory at 338 North Charlotte Street. In 1900 the first electric motor car appeared on Lancaster's streets and in October of that year, after Leaman retired, Harnish formed "The Lancaster Paint & Glass Co." and opened a combined factory and store at 233-235 North Prince Street.
Later the buildings were expanded to the rear to allow access to the Pennsylvania RR tracks, which enabled easy delivery of the raw materials required in the paint manufacturing business. A steam boiler provided power for mills to grind ingredients to manufacture putty, paints, stains and varnishes. "Lancaster Ready-Mix Paint" was the leading brand and was sold throughout Pennsylvania and surrounding states. The company also carried oils, glass, cement and a wide assortment of paint related items. Brushes sold by the company were so popular they could be found in use as far away as New Mexico. Lancaster Paint & Glass Co. continued to prosper, providing paints and coatings to local companies which, during this period, were producing material for both World Wars, as well as a vast selection of paints for residential and commercial uses. Everything from carriage paints to automobile enamels, varnish stains, graining combs, blackboard paint, cement paint, sealers and putty were manufactured at the plant.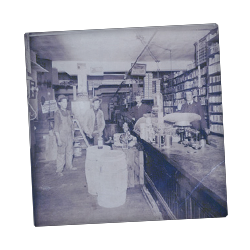 As the county grew, Lancaster Paint & Glass Co. supplied many of the outlying hardware and dry goods stores from its vast inventory of products. During the 1960's and 1970's as federal regulations required ever increasing amounts of equipment investment to comply with new laws, paint manufacturing gradually decreased and the Company began direct purchases from large paint manufacturers. Lancaster Paint & Glass Co. continued to "paint" Lancaster as it played a significant role in the development of original color palettes for such projects as "Old Town Lancaster" as well as other historic restoration projects.
As architectural requirements called for the use of more glass and metal in construction, the Company expanded its glass, mirror, plastic and glazing operations, and in 1984 ceased selling paint and concentrated entirely in the glass, mirror and plastic business.
With the largest selection of glass, specialty glass, mirror, and plastic in Lancaster County, Lancaster Paint & Glass Co. is proud of its contribution to the growth of our area and is enjoying its second hundred years of providing Lancaster County with the best in quality, price and service.