Commercial Glass Barriers
Lancaster Paint & Glass is proud to do our part with the spread of COVID19 and keeping our community safe. In order to prevent the spread of disease in essential commercial settings, we've developed our clear commercial plexi glass barriers for use in grocery stores and other essential businesses by still providing the same high-quality products you've come to expect.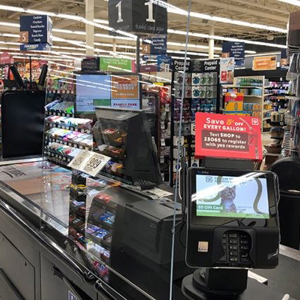 These barriers are typically ¼" thick, but are also available in a lightweight 1/8" thickness. Smooth edges and custom-cut sizing mean these barriers can be used in a wide variety of settings to match any commercial setup. Categorized as a safety glass, these barriers are durable and easy to install for a convenient, yet life-saving addition.
This material is typically kept in-stock at our Lancaster location, so we can custom-cut and have ready for pick up and simply to keep your customers and employees safe. We are proud to serve our community during this difficult time, and we hope to see healing and prosperity in the near future for our customers. Feel free to contact us or give us a call at 717-299-7321 to place your order today!
DUE TO HIGH DEMAND AVAILABILITY MIGHT BE LIMITED