Other Products & Services
In addition to supplying and installing all of the products you see listed throughout this website, Lancaster Paint & Glass can provide: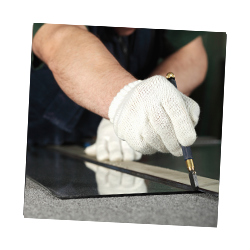 Caulking and glazing products
Custom glass, mirror and plastic etching
Tools or supplies used in the glass trade
Tools, glass drills or drill bits, etc. for DIY projects
Commercial glass cleaners
European hinge hardware for cabinet doors—we provide the hardware and the glass doors, as well as connectors for glass displays
Sliding glass showcase doors, complete with hardware and locks—just install top and bottom track and set doors on track. All we need is your finished opening size.
Don't see the products or services needed to complete your glass, mirror or plastic project? Simply contact us to get in touch with a friendly, experienced member of our staff who will likely be able to answer your questions and provide what you need.