Fireplace Glass Replacement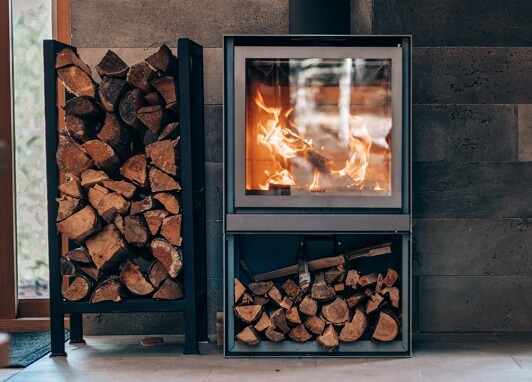 ✓ Neoceram or Tempered options available
✓ Custom sizing for your unique fireplace
✓ Installation services available
Fireplaces have become more than just a way to warm your house. They provide a comforting atmosphere for the family, a peaceful place to sit close to stay warm and feel cozy. So, when something as simple as the glass door breaks, it's important to get that replaced as soon as possible, especially if it's as broken as the glass in the picture below!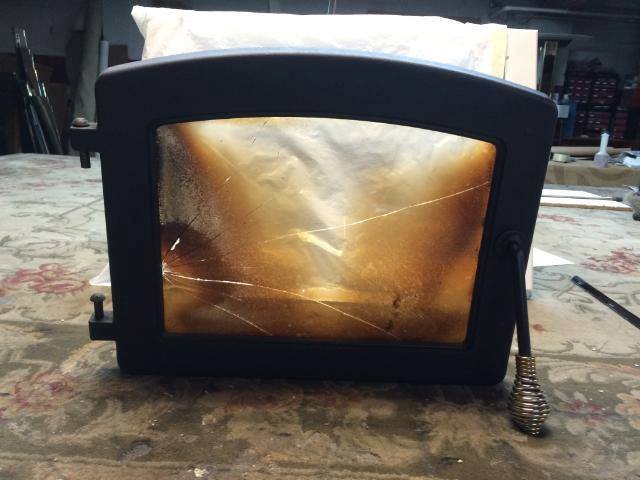 Lancaster Paint & Glass Co. is your source for fireplace glass replacement and other custom glass solutions, and we are fully equipped to help you find a replacement for your fireplace's glass door. We've outlined our recommendations below, but please do not hesitate to contact our team of glass experts at 717-299-7321 if you need additional guidance, or if you're ready to order a glass fireplace door replacement.
Step 1: Choosing the correct glass
Neoceram is the most popular and only type of glass to use in wood stove doors because it can withstand temperatures as high as 1400 degrees Fahrenheit.
Tempered glass is used in fireplace doors. This type of glass can withstand temperatures of approximately 450 degrees Fahrenheit, which is fine is most situations, but may not be durable enough for large, high-heat fireplaces
We can provide a custom recommendation if you give us a call or visit us in person at our location in Lancaster PA.
Step 2: Get the right measurements
If you plan to install the replacement glass yourself, you'll need to know exactly how large of a piece of glass you'll need.
Start by measuring the width and height of the visible glass in the fireplace door, then estimate the additional width/height for the portion of glass that sits under/inside the frame. Then remove approximately 1/8 inch to account for the glass expanding as temperatures fluctuate. Once the glass is tempered, the size may not be changed.
Most customers find it easier to remove the door and bring it to us to measure and install the replacement glass.
Step 3: Replace the glass
We recommend finding a glass repair specialist near you where you can get the replacement glass you need for your fireplace. If you're in or near Lancaster County, PA, we can help you! We serve Lancaster city, Manheim, Strasburg, Lititz, York, Ephrata, and beyond.
FAQs About Glass Fireplace Door Replacements
How much does it cost to replace fireplace glass?
Depending on the type of glass you choose and the size of the glass, it could cost as little as $125 for tempered glass or as much as $600 or more for neoceram glass. We can provide a custom quote if you call us at 717-299-7321
Do you need special glass for a fireplace?
Absolutely, it is not safe to use standard window glass in a fireplace door as the high heat from the fireplace will cause the glass to shatter. Neoceram glass is required in wood stoves. Tempered glass is used in fireplace folding doors.
Can you use a gas fireplace without the glass?
In almost all situations, no you should not use a gas fireplace without the glass properly installed and the door closed. This is because most gas fireplaces depend on the door being closed to allow for proper ventilation. If you're not sure about your specific fireplace, consult the manual if it came with one, or contact the manufacturer.
Need some help deciding what you need for your fireplace glass replacement project? Call us today at 717-299-7321 or visit us in Lancaster PA at our main office.