Shapes & Edges
Glass, mirror and plastic products from Lancaster Paint & Glass can be ordered in a wide variety of shapes, thicknesses, edge types and corners. Following is a sample of what we typically produce. Please contact us if you require glass, mirror or plastic items with specifications other than those illustrated below.
Shapes

We have a large selection of standard shapes to meet a wide variety of needs. We can even design custom shapes to meet your exact requirements!
Glass Thickness
(Not to scale)

Our standard glass tabletops are available in five thicknesses!
Edge Type

Choose from our many different edge styles to create a look that is truly unique.
Corner Detail

Glass tops with corners can be cut to any pattern.
Fabrication Capabilities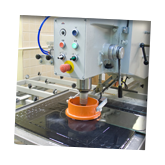 We have the capability to fabricate to meet your specific requirements.
Shapes
Holes Drilled
Beveled Edges
Mitered Edges
Ogee Edges
Pencil Edges
Outlet Holes
Notches
Pass Throughs
Mail Slots
A Word About Glass Defects
In our modern world of mass produced, cookie cutter goods, we expect flawless perfection in every item we purchase. However, we would like you to be aware that all glass contains various types of flaws or blemishes, which may be visible to the naked eye. This is unavoidable, as even the finest raw materials contain minor flaws. The federal government specification requires, however, that no defects should be visible in the glass when it is viewed horizontally or vertically from 11 feet away under normal lighting.